Half-Empty?
By Tim McNally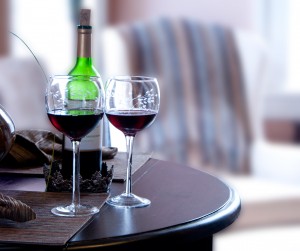 For everyone involved, a wine-by-the-glass program at a bar or restaurant (hereinafter referred to as WBG) is just a royal pain, except when it isn't.
At first glance, WBG is a terrific idea. The selling establishment has the opportunity to expand its wine list's approachability and provide the patron with a variety of styles in smaller than a bottle, less costly volumes, while the patrons dine, sample around a few items, or just sip.
The patron has the opportunity at a reasonable cost to try different items that maybe they would otherwise not glance at twice. If you don't know _______ (fill in the blank with a wine you have been curious about), well, for just a few dollars you can try something that will acquaint you with a new grape, a new style, or a new spot on the globe.
The restaurant or bar, at least in theory, will sell more wine and patrons will increase their beverage selection knowledge. Peace will reign upon the land. Cue: puppy dogs, cuddly lambs, smiling babies, and soothing harp music.
Oh, if only it were that easy.
First of all, offering wines by the glass invites staff pilferage and spoilage. An open bottle of wine, left out of a friendly temperature-correct environment, can denigrate pretty quickly. Often in less than 6 hours. Even stoppered, the wine bottles that have been subject to the vacuum treatment meant to get the air out will spoil.
When that happens, and it happens fairly often, the advantage goes to the seller. Most consumers don't know when a wine has lost its "stuff." They will happily drink the wine without noticing, or they will form a negative opinion about the wine and vow never to order it again. "I really did not like it." But still, the consumer pays.
That drives winemakers nuts. They go to a lot of trouble, and create special pricing for WBG programs, then to have someone taste a wine that has seen way too much oxygen, oh; it is not a Happy Day (The Edwin Hawkins Singers, 1969, http://www.youtube.com/watch?v=CNQXQKflJNA.)
Most restaurateurs and bar owners have some idea where the quantity limits are with their list of wine offerings. It's usually a matter of cost and storage. How many of these bottles can I afford to keep and just sit on the wine list? Where am I going to store the product on the premises waiting for my patrons to order the bottle?
By necessity, WBG programs have to be pretty broad as well as defined. If the owner of the establishment wants to offer a popular wine, like a chardonnay, what styles should they stock? Where should the wines be from? How long do I have from the time the first glass is ordered to the time the last glass in the bottle is ordered before all that's left goes bad and no one wants it except the chef to create a new sauce for the special fish dish of the day?
Many restaurant people are backed into an uncomfortable position due to consumer expectations. "Surely a restaurant of this caliber offers a sparkling wine by the glass." Given the possibility of spoilage and/or pilferage such a program may not even make any money, while taking orders away from more profitable cocktails. Nasty double whammy!
My attitude has always been if one person can do it, then everyone should be able to do it. That, by the way, does not apply to my tennis game. Nadal and Federer can play tennis like I can only dream about. I can't do what they do. It is small solace to know that very few people on the planet can play tennis like they do. But I digress.
If one restaurateur or bar owner can successfully offer a WBG program, then everyone should be able to do it. Surprisingly, such is not the case. Lack of product knowledge, lack of good business sense, lack of staff training, and lack of desire to serve the customer's needs all play a role in failed WBG programs.
What works is just the opposite. Surprise! Teach the staff to explain the wines properly. Get them enthused about what's on the list. Store the wines properly. Take a page out the Baskin-Robbins playbook and let people have a small taste before ordering. Prominently display the wines offered. Be certain the wine list is up to date, correct, and enticing. Change the list at least monthly, keeping the most ordered items and deleting those that had no support.
This is not rocket-science. This is common sense with a profit-reward at the end of the transaction.
Most of our major restaurants here do a great job of offering WBG. Some implement outstanding programs.
I was just over at G.W. Fins, as fine a seafood restaurant as there is anywhere in this country. They have a load of wines by the glass. Most, if not all, of the wines they feature on their extensive wine list are available by the glass.
Now they have gone a step further. There is a high-end WBG program. Four wines only. But these are wines that you hardly ever, if ever, see by-the-glass. The lowest bottle cost for these special wines is $85. But at Fins, they are available in smaller doses at pretty reasonable prices.
The program is a huge success. Patrons love to try these wines that are just too dear to order an entire bottle without an expense account, but a glass or two, easily done.
I enjoy ordering WBG, like a glass of sparkling to begin the meal. Then a nice white, maybe from New Zealand. On to a light red, from Oregon or Russian River. And finishing with a heavier red from Sonoma, Napa, or even Bordeaux.
That sort of variety can't be done ordering a bottle or two. I enjoy sharing bottles, but I do love the variety of WBG, when done correctly.
-30-
'Tis the Football Season
By Tim McNally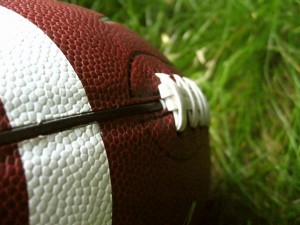 As if any living soul in the Southern part of the United States was not aware, we are well into Football Season.
For us here in New Orleans, festivals are kicking back into swing, there's a hint of cooler weather in the air, days are getting shorter, routines of school and work are taking hold, vacations are something to be remembered rather than anticipated, and weekend afternoons and evenings are built around the TV, cheering or moaning, with the drone of an announcer's trite sports phrases which seem to apply to every game and every situation.
(I've wanted for years to record set phrases from different announcers, then trot them out on a moment's notice, turning down the audio portion of the broadcast and inserting my own, gleaned from years of listenership.)
If you love football, there is nothing that even comes close to this time of year. If you don't love football, there is nothing that even comes close to this time of year, thankfully.
As fate would have it, so far, our favorite gridiron organizations are enjoying an excellent season. The Saints and the Tigers have yet to be on the wrong end of the scoreboard when all is said and done. Even the Green Wave is showing promise and they are an entertaining bunch. The program Uptown seems to be in good hands and the future looks promising.
Anyway, the ultimate question is not really about third down decisions, pass or run, blitz or drop back, punt or go for it. No, the ultimate question is what do I want to drink?
Football games, when we are not in attendance, present an interesting challenge to us die-hard fans and those poor souls who are near. Football games are long affairs, usually a little over 3 hours in length. That's a long time to suck on something and most of us go through stages. Starting with one beverage, moving on to something else, and finishing, depending on the outcome of the game, with still another drink.
Pacing ourselves does not become an easy issue because we are focused on the game. Time and frequency of beverage have no meaning and no place in our personal clock-management. We want to stay with the contest to the final whistle. We don't want to miss a single thing, and we want to talk back to the screen without slurring our words, or, if we are in a public setting, using language for which our mother would have brought out the Ivory Soap. Which, compared to some other brands, like Lava, did not taste all that bad. I tell you that from experience.
Let's start our football afternoon or evening with something that really revs our engines, a Bloody Mary. Oh sure, that's pretty standard fare, you are thinking. A safe choice. But this Bloody Mary, as it recently was featured in Food & Wine Magazine's website, really has a kick.
Kimchi Bloody Mary
As created by Don Lee and featured in Food & Wine Daily online.
Serves 8. Preparation Time: less than 1 hour
2 packed cups kimchi (16 ounces)
46 ounces tomato juice, such as Sacramento. (Unless you enjoy really hot Bloody Marys, use of Zing Zang or even V-8 may take this drink too far over the top, heat-wise)
1/4 cup Sriracha chile sauce
2 tablespoons Worcestershire sauce
2 tablespoons sherry vinegar
Salt, to taste
Freshly ground pepper, to taste
2 cups vodka (16 ounces)
Ice
Mint sprigs or shiso leaves, for garnish
Working in batches, puree the kimchi with the tomato juice, Sriracha, Worcestershire and vinegar. Set a fine-mesh strainer over a bowl and strain the kimchi puree, pressing gently on the solids to extract as much juice as possible; you should have 6 cups of kimchi-Mary mix. Discard the solids or reserve them for another use. Chill thoroughly, then season with salt and pepper and stir in the vodka. Serve over ice, garnished with mint sprigs or shiso leaves.
For a little extra body, add a can of Campbell's Beef Broth, which puts you on your way to a Bloody Bull.
That drink should set a good tone for the game. You may want to also garnish with pickled vegetables, such as string beans or okra, carrot spears, celery, or pimiento-stuffed or garlic-stuffed olives.
The other day for the Saints-Cardinals game, our beverage table was laden with 5 different types of local and imported beers, gin, tonic, three kinds of vodka, four white wines, four red wines, sparkling wine from California, two pitchers of margaritas (not sweet and all made with plenty of fresh lime juice), DiSaronno, Jack Daniels, and a pitcher of cool not-from-the-tap water.
Somewhere in all of that, there was something for everyone. Yep, surprised me too that someone did not ask for a bastardized version of Sex on the Beach. That's the joy of hanging with an older crowd that loves football. If it's more involved than pouring from a pitcher or popping open a beer cap, that's too much time away from the game.
The other opportunity we have here in New Orleans, and this is really a good time, is a progressive game-watching pub crawl. We are really lucky here. Goes without saying that it is better when the game is in the Dome, and you are in that number.
But if that can't happen, there are a number of cool bars close to each other, just waiting to mix your favorite drink, alongside the attendance of a goodly number of other Saints fans.
Anyway, we do this pub crawl several times a year. At each stop, as we stare at the TV in anticipation of lots of good news, we order a drink, and often have a bar snack or two. This sort of social experience is tough to beat.
Bars we usually frequent are Hermes at Antoine's, The Rib Room, 33 at Galatoire's, Felipe's in the Quarter, Dickie Brennan's Bourbon House, SoBou on Chartres, and the Carousel in the Monteleone. It all depends on our mood, our desires for drinks and snacks, and whether we intend to eat dinner later.
Notice that all the bars are close together, and all are adult-bars with no smoking.
So here's the plan, we head to a bar, watch a quarter of the game, then move on. That's it. One quarter of football in each bar. Given the long commercial breaks when the teams change ends, at the end of each quarter, we can usually mosey along and be settled into the next venue by the time action resumes.
The added benefit is we are moving around, at least at some point, and the change of scenery works well. There are some superstitious folks among us who, if we are doing well, will not move to the next place. That's okay. Sometimes we respect that voodoo and stay where we are too.
I'm not a big believer in superstitions, as long as you don't count the fact that I have not washed my lucky Saints shirt since the season began. Interestingly, I always seem to find a seat by myself. People get out of the way when I come in. Guess my reputation precedes me.
You don't think it could be the shirt's state of non-cleanliness, do you?
-30-