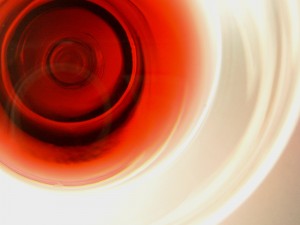 Beaujolais Nouveau Is On the Way…
Don't roll your eyes and act exasperated.
By Tim McNally
The only date on the entire wine calendar that is consistent from year to year is the arrival of Beaujolais Nouveau. By French law, the wine cannot be released until the third Thursday in November. This year the date is November 21.
Okay, I can hear that sniggering out there. Your big "so what?" attitude is noted. And let me give you a big "why not?" right back.
We'll get back to our spat in just a moment. But first some background. Beaujolais is a wine region in the eastern part of France, adjoining Burgundy and north of the Rhone so Beaujolais as a spot on the map has some really great neighbors. The main red grape of Beaujolais is Gamay, in truth a purple-colored grape (pause a moment and let that sink in), which produces light-style wines, meant to be drunk young.
And with Beaujolais Nouveau, "young" means wine grapes that were harvested in mid-August to early September. Yes, this year, 2013. The wines are barely 60 days old. Okay, you don't see what the Big Deal is. The wines are brand new, barely through a rudimentary fermentation, and now the French have imposed a regulation that you can't drink them until the third Thursday of November. What's the difference if you drink them on the third Tuesday of November? None, except that it is against French law to have them before the third Thursday, etc.
Keep in mind that this makes very good sense to the French and we play along. Sort of like those "play like" games your previous girl friend enjoyed. No harm and often together with your willing attitude it was a great result.
Anyway there is a thought going around that Beaujolais Nouveau has to be drunk very soon after its release. Not really. It's not meant to age, but it won't spoil by Easter.
Then there are those no-fun wine drinkers who turn up their nose at this little pageant played out right before Thanksgiving every year. They claim the wines are simple. They don't possess great body. They sometimes touch on the sweet side, and they have no staying power.
Yes on all counts. So what's your point?
It's fun. The wine usually pairs perfectly with the lighter part of Thanksgiving dinner. It's good for quaffing. And it's just fine with a little chill. The low alcohol levels mean the wine will not fill you up and it will take a bit more to make you even feel the effects. All good.
To those wine geeks out there, and some of them may be your friends (I'm sure you are not one, are you?), lighten up. Every wine does not have to be an adventure into complicated, big berry, concentrated, ultra-tannic, heavy Wine Land. Sometimes a little playfulness works. Besides Beaujolais Nouveau usually sells for less than $12. In this price range, expectations have to be tempered.
Beaujolais Nouveau will be available at all the usual outlets, including many restaurants, on November 21. If you want to be the first one on your block to check it out, the French American Chamber of Commerce has an annual party welcoming the Nouveau to New Orleans.
This year's affair, the first planned opportunity to try the wine, will be at the J.W. Marriott on Canal Street, Thursday, November 21, 7-10 p.m. Lots of food (plenty of restaurants serving), music (The Yat Pack, how about that?), good company, an auction, and all the Nouveau you want. Tickets are $70 for non FACC members, in advance. Call 458-3528 and let them know you are attending to see if the Nouveau is worth the hoopla or not. Then let me know what you think.
-30-
Hybrid
The term hybrid has gone mainstream with mind-boggling advancements in technology, biology, linguistics, electronics, or whatever.
Hybrid means the combination of two formerly non-combined entities, with the result, ideally, featuring the best of each. Hybrid cars, utilizing both electric and gas for power, are hot commodities. The first time I met a cock-a-poo dog I was not certain if the little beast had difficult sexual habits or bad bathroom techniques.
Then there's the grape classification referred to as hybrids. You've probably heard of the South African mainstay grape, Pinotage, which is a combination of the Pinot Noir and Cinsault grape varietals. Vidal Blanc was bred for the wine industry in Cognac, so the main ingredient in the blend was the native Ugni Blanc, coupled with the Rayon d'Or, for the purpose of developing a better winter-hardy, longer growing season species of wine grape.
The Vidal Blanc mash-up has gone well and the grape is planted extensively in Canada. Most of the luscious ice-wine, acclaimed around the world, is actually Vidal Blanc.
And now we come to the term hybrid cocktail, or at least I come to the term, with the intent of describing a mixed drink for adults using both wine and spirits. This is not necessarily a new development as the essential Champagne Cocktail is still quite popular and has been for over a hundred years.
Champagne Cocktail
1 sugar cube
2-3 dashes of Angostura Bitters
1.5 oz Brandy
Champagne
In a Champagne Flute, place sugar cube in bottom, add bitters and Brandy, fill with cold Champagne, garnish with citrus (lemon, lime, orange). Add maraschino cherry or fresh fruit (strawberry, blackberry, blueberry).
What set me on the path of hybrid cocktails was a news release from the gang (the BIG GANG) at Gallo who have released a new line of wines with the joyous name of Refresh.
This comes from the Turning Leaf branch of the family (sorry, could not resist the arbor pun), and the wines emphasize the fruit flavors of pink, red, and standard moscato, as well as crisp white, all with a "palate pleasing fizz." (I'm quoting here from the Gallo/Turning Leaf news release since their marketing people have pretty much done the heavy lifting. Or at least I think they have.)
Then my inner self tells me that while I may not care for these wines, and many folks certainly will, this line-up could make a good base for a wide variety of cocktails. That little spritz factor means instead of adding sugar to the cocktail because the tonic water has no sweetness, these wines could step up and serve a drink's sweetness needs well.
I've never tried these wines so I am flying a bit blind here, but on the surface I think here we have a product that normally staid and conservative wine lovers would walk away from, yet maybe all is not lost.
About this point, no doubt, people who know me and truly professional wine and spirit writers are thinking I have logged off the farm. And I am probably in the worst position of any of you as to whether that would be a good call.
But once we lose our youthful or oldthful curiosity, once we keep doing the same thing over and over again without consideration for other actions, then maybe the joys of discovery will elude us to the end of our days. That would be sad.
Try experimenting with a few cocktails of your creation using Refresh, or just try the product on its own. Let me know how you do and what you think.